Count and keep counting followers. "Be like Jose". Thanks to his simplicity and honesty everything is a success on social media. He not only managed to teach all of those "like" addicts better but also to brand strategy developers in the digital world. 
"The language of truth has to be simple and with no tricks", says a quote by the Roman Hispanic philosopher, Seneca. An ideal reflection to exemplify the meme's success "Be like Jose", which soon will rise to 500 thousand likes and has made Latino-American memes take note to explain this phenomenon on social media.Why is it that an image created on paint, archaic and basic, by its creators own words that criticize and educates at the same time user behavior on Facebook or Instagram, becomes viral so swiftly?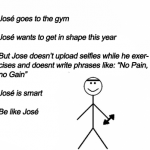 Further than reflecting about the fleetingness of information, we can comprehend that a simpler language, honest and direct, is compensated satisfactorily by social media users (even when criticism is toxic to those who make their lives on social media by showing off buys, trips and event participation). So, maybe it's not actually the "engagement" one of the principal objectives on social media?
José leaves us with many lessons, especially for those in charge of generating brand strategies in the digital world, the fundamental way to generate "brand lovers" is reaffirmed again as communicating the honesty of the service or product, in a true account, accurate and simple, that produces credibility and identification between the target audience towards the brand.In this age where the consumer is daily bombarded with thousands of advertisements, the fashion meme terrorizes us and say: "originality and simplicity, always enchant and foster loyalty". We have to be like Jose. 

​