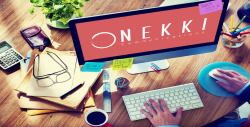 It's common knowledge that every business should have their, let's put, ''face'' represented. In the physical as well as the digital space. After all, we're living an age we're Company information such as their services and ways to contact them are thought of first in the digital space. In addition, online purchasing is vastly increasing and people are reaching out businesses through social media.
It's clear that having an online presence for your Company is essential for business growth and leverage. Not only that but creating a good, attractive website has the power to attract potential clients and make visitors stay. The way you craft your website is crucial for success in the internet. A recent Forbes article links further to this, explaining that "if you have a bad website, it is better to have no website,". A badly, or sloppily crafted homepage, as well as a non-navigable website, can make clickers run away and never come back to your product, leaving it hidden under all the technological clutter.
Having all of this said, Clutches second annual small business marketing survey of over 350 small business owners and managers claims they do not own a website, due to cost and perceived irrelevance of it.
This is simply not true. Having a website has proved to be a great asset for Companies. According to this infographic, in 2017 80% of local searches lead to in-store visits and immediate purchase decisions.
Now, to create a good website, a thorough understanding of your voice and who you want of speak to is crucial and necessary to stand out in the myriad of websites out there. Take for example Airbnb's website. People interested in short stays had already the option of heading over to sites like Craigslist and see what's out there. However, Airbnb has made their website so comfortable and their branding so recognizable that it is now thought of first for overnight or short stays. On their website, you clearly see the focus lies on web usability. That's the scope of their audience. People who want to look for a safe place, with no hassle and no big amount of time. Upon writing your location you have everything you need to survey the room, fast and easily. A map lets you know where you're choosing to stay, where are other available rooms out there and their charge. Customizable tools are readily available, such as room type, price range, location type, etc. All in all, Airbnb is exceptional at being recognizable and providing the audience exactly what it needs.
What does your audience need? We'll explore a bit more about this on the next part of this blog post.
Stay tuned!